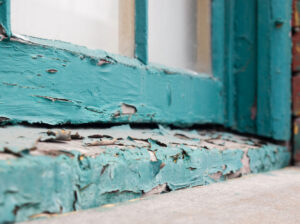 Did you know there is a EPA lead-based paint Renovation, Repair and Painting Rule commonly known as RRP. The EPA is stepping up their vigilance to the rule and fined 16 firms for violation last November. RRP is EPA's enforcement program is to protect children, and others, from exposure to lead dust that can cause lead poisoning.
Lead exposure can cause unwanted health effects, from behavioral disorders and learning disabilities to seizures and death Lead poisoning puts young children at the greatest risk because their nervous systems are not fully developed.
With a thorough lead inspection, you can prevent lead exposure. According to data at the EPA, about 4 million households with children have lead paint, and over a half million children have high levels of lead in their blood. There are homes where this lead paint is located on the roof, and unfortunately the elements will have pushed this hazardous material deep into the structure over time more often than not. This is the reason why any new construction roofing has to be very careful with the materials, paint, and chemicals used in the build for many decades now. Not only must they be safe and durable, but they must not seep into household via its structure, through rain, snow, and years of daily direct sunlight.
The recent 16 violations made by the EPA protect children and promote the importance of using lead-safe practices.
RRP Rule Details
EPA finalized the RRP rule in 2008 and the rule took effect on April 22, 2010.
Contractors that work on pre-1978 dwellings and child-occupied facilities are required to be trained and certified to use lead-safe work practices.
Making sure commercial painting contractors are certified for lead safe work makes sure that common renovation and repair activities like sanding, painting, cutting and replacing windows are performed while taking care to prevent the spread of lead dust.
Violation Details
In each following 13 settlements, the respondent was required to certify that it has come into compliance with the RRP Rule. EPA also assessed civil penalties of $53,792 for this 16 cases. In the 3 administrative complaints that EPA will seek civil penalties up to the statutory maximum of $37,500 per violation.
Settlements
Alliance Contracting & Design, LLC of Bay City, Mich.
Dasa Properties LLC of Buffalo, N. Y.
DiGiorgi Roofing and Siding, Inc. of Beacon Falls, Conn.
Exterior Images of Derry, N.H.
Hometown Painting, Inc. of Warrenville, Ill.
Kindred Painting, LLC of Dover, N.H.
Leanza Painting Contractors, Inc. of Morristown, N. J.
Mac Stringer Painting and Staining of Ontario, N. Y.
Scheffler Painting, LLC of Trenton, Mich.
Spartan Painting, Inc. of Haslett, Mich.
Sunshine Home Improvement, LLC of Lenexa, Kan.
Universal Remodeling & Building, LLC of Stratford, Conn.
Wildwood Apartments, LLC of Jackson, Mich.
Complaints

Collegiate Entrepreneurs, Inc. of Braintree, Mass.
PZ Painting of Springfield, N.J.
Kachina Contractor Solutions of Elkins Park, Penn.
Learn More
>> Learn More About Lead Paint Exposure Hazards
>> Learn More About EPA's RRP rule

Environmental Risk Management deals with Lead Based Paint Issues every day. Contact Us (859-689-9222) to get more information about how we can help you with your home, your rental properties, or business.
Comments
comments