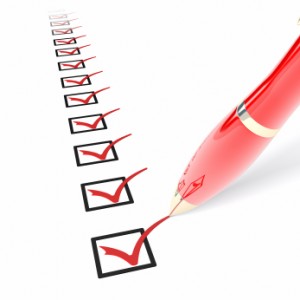 If your facility falls under Emergency Preparedness and Community Right-to-know Act (EPCRA) requirements, there's more to do then just TRI reporting. Here's a checklist to help you make sure you cover you bases with all the regulations.
Have the requirements handy
Do you have copies of the statute?
Do you have copies of the federal, state, or local regulations?
Does management know they need to be compliant?
Have you informed management of impending regulations?
Which personnel has which duties?
Have key personnel needed for program development and implementation been identified and notified?
Administration
Public Relations
Health and Safety
Production:
Environmental
Purchasing
Attorney
Has there been an informational meeting scheduled with all key personnel?
Informing/training personnel 
During the meeting, did you…
Distribute information on the regulations?
Give presentation on the law?
Discuss the impact of the law?
Establish the need for a unified implementation effort?
Did you discuss company policy relating to…
Emergency planning?
Extent of cooperation with local officials?
Chemical reporting?
Risk communication?
Trade secrets?
Misc. Tasks
Have you:
Developed a strategic compliance plan?
Incorporated growth plans (i.e., new processes, new facilities) into the plan?
Reviewed the existing site emergency response plan?
Notified state and local officials that you are covered by the law?
Developed a facility timetable for compliance?
Reviewed the program to ensure that it addresses the salient issues?
Submitted the program to key personnel for approval?
Assigned personnel and defined specific tasks to achieve compliance with each applicable requirement?
Have you identified the EPA contacts, the SERC, the LEPC, and the local fire chief?
Do you have an established relationship with state and local emergency response officials?
Have you named a facility emergency coordinator?
Has this person met with key EPCRA officials?
Have you developed a public relations program for the dissemination of chemical information to the community?
Have filing and documentation systems been devised to record all EPCRA compliance activities?
—
Need someone to help you with EPCRA regulations? We can handle it for you, so you can focus on your core business.
Contact Us (859-689-9222 – KY, 513-367-4100 – OH) to get more information about how we can help your business.
Comments
comments