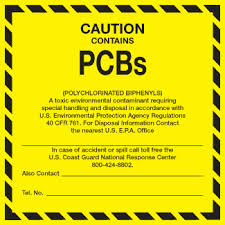 Anyone who manufactures, imports, or exports hazardous chemicals  is required by the EPA to comply with Toxic Substances Control Act (TSCA). Anyone transporting anything not on the TSCA list of chemicals must notify the EPA at least 90 days before producing or importing the new chemical substance. There are TSCA reporting requirements also and TSCA's rules are enforced by both the EPA and the U.S. Department of Homeland Security's Bureau of Customs and Border Protection (CBP).
Polychlorinated Biphenyls (PCBs) Requirements
No person may import polychlorinated biphenyls (PCBs) or PCB items for disposal without an exemption issued under the authority of TSCA.
No person may export PCBs or PCB items for disposal without an exemption, except that PCBs and PCB items at concentrations less than 50 parts per million (ppm) may be exported for disposal.
For example, the EPA may grant an exemption to a specific petitioner to export PCBs for use in small quantities for research and development, or an exemption may be granted for the import of a small quantity of existing PCB fluids from electrical equipment for analysis.
The EPA must receive a petition for an exemption from the PCB prohibition on imports and/or exports 60 days before engaging in these activities (40 CFR 761.80).
PCBs and PCB items of unknown concentrations are treated as if they contain greater than 50 ppm (40 CFR 761.97).
The following PCB shipments are not considered exports or imports…
PCB waste generated in the United States, transported outside the customs territory of the United States (including any residuals resulting from cleanup of spills of such wastes in transit) through another country or its territorial waters, or through international waters, and returned to the United States for disposal. Examples of such territories and possessions are Guam, American Samoa, the Commonwealth of the Northern Mariana Islands (CNMI) including Saipan, and the U.S. Virgin Islands.
PCB waste in transit, including any residuals resulting from cleanup of spills during transit, through the United States (e.g., from Mexico to Canada, from Canada to Mexico).
PCB waste transported from any state to any other state for disposal, regardless of whether the waste enters or leaves the customs territory of the United States, provided that the PCB waste or the PCBs from which the waste was derived were present in the United States on January 1, 1979, and have remained within the United States since that date.
This exemption allows U.S. territories and possessions that fall outside of the definition of "customs territory of the United States" to dispose of their PCB waste in the mainland of the United States where facilities are available that can properly dispose of PCB waste.
Environmental Risk Management can create an effective PCB Transportation program for your office.
Contact Us (859-689-9222 – KY, 513-367-4100 – OH) to get more information about how we can help your business.
Comments
comments